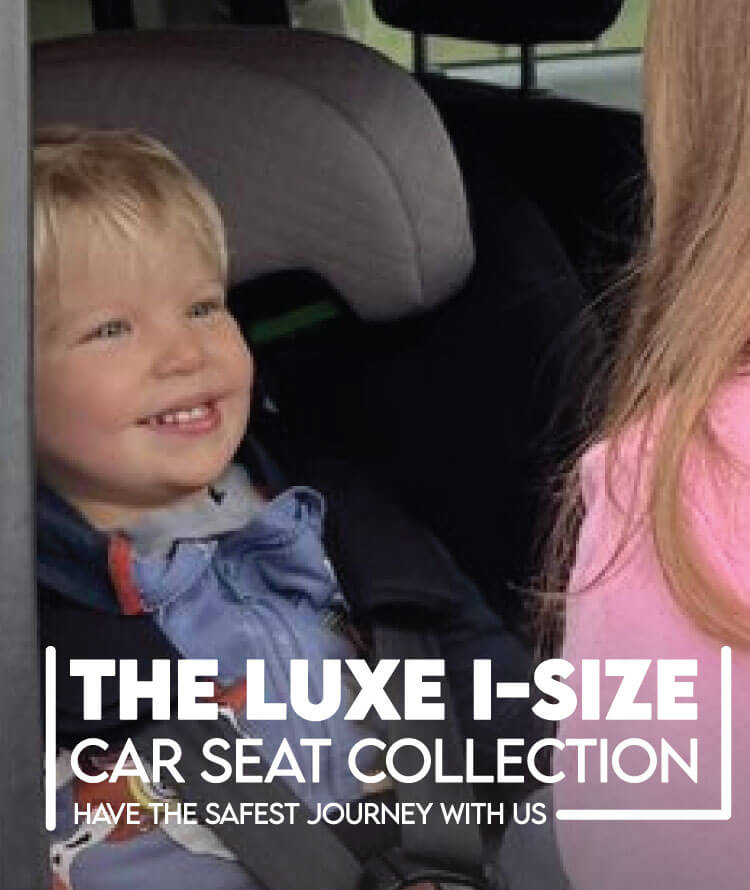 offering absolute peace of mind where it matters most
Choosing a car seat for your child can be confusing and scary. It needn't be, but we understand with so many choices, technical words (some of which you did not even know existed!), and safety certifications with letters and numbers; it can be heavily overwhelming to new (and even seasoned) parents. All you want is absolute confidence and peace of mind, that you are choosing the safest car seat for your child.
Car seats and boosters provide ultimate safety and protection for infants and children in the car. That's why it is so important to choose the right seat, learn to install it correctly, and use it properly every time your child is in the car.
Mountain Buggy's long history of engineering and certification extends to our own car seat collection, offering you worldclass products that hold the newest and highest safety standard in the world (R129) - a car seat for every stage of your growing child, delivering peace of mind from birth right up to the older years (up to 150cm).
Our car seats incorporates the strength of our Mountain Buggy® DNA of manoeuvrability, durability, adaptability and simplicity, right across the entire collection; ensuring superior engineering, premium comfort and ultimate safety for your child from their first trip home from hospital, right through to their final car seat days.
What is R129, and what does this mean for me?
Quite simply, R129 is the newest EU car seat safety standard. It is the toughest and most stringent global standard to date and includes more rigorous testing (including side impact) to improve head and neck protection. Included in this standard is a term i-Size, which focuses on your child's height rather than their weight and age. Prioritising your child's height gives you a much easier journey in determining which car seat they need as they grow.
What does it do for me?
Because R129 focuses on your child's height, (not age or weight), it's much easier for you to know when to lengthen your car seat headrest, or upgrade to the next seat for you child. Here are some other key benefits of having a R129 car seat:
R129 car seats are tested rigorously with state-of-the-art technology that includes front, rear, AND side impact. On completion, they received the highest achievement rating. Rest assured that R129 car seats can withstand and protect your child in various collision scenarios.

It will offer you peace of mind when travelling in the car AND ABOVE ALL, it will keep your child safe, as all R129 car seats are ISOFIX equipped. With this feature, you can now have peace of mind, knowing you will always install your car seat correctly. This ability is now within your reach. You will experience a hassle-free, quick, and secure installation process.
It keeps your child rear facing for longer, which is safer. As part of R129 regulations, your child must be in rear-facing mode for up to 87cm in length (which is up to 15 months). Rear-facing is the proven safest position, especially for infants and toddlers, who are more at risk of serious injury because their head, neck, spine, and pelvis are at the immature stage of development.
What is ISOFIX, and how do I know I have it to make it work?
ISOFIX is easier to say, and in one breath, rather than International Standards Organisation Fix, which is what it stands for.
It is the safest installation system that ensures your car seat is secured safely and correctly - always.
For ISOFIX to work for you, your car needs to have ISOFIX anchor points (the name of the part you connect your car seat to) and an ISOFIX-equipped car seat. On your car seat, it is the base (the base is either separate or integrated within the actual car seat), and it's usually tucked away, once released, it looks like two steel rods with pinchers at the end, which hook onto the car anchor points.
To find out if your car has this, look in your back seat. You will find them by placing your hand in the gap between the seat's cushions and the back of the seat. You should feel two ring or bar shapes. These are the ISOFIX anchor points. You are ready to install with ISOFIX.
Most European cars from 2001 and Japanese from 2011 will have ISOFIX anchor points.
Why do I need to rear-face my baby for longer? Can I forward face earlier?
Extended rear facing is crucial to keeping your child safer for longer. Their car seat in the rear-facing position provides the all-important protection and support for their head, neck, and spine.
On impact, in the rear-facing position, the force created by the impact is evenly spread across the back of the car seat and the widest parts of your child's body. The momentum created by the impact, when you are in rear-facing mode, instead of propelling them forward, pushes your child back into the safety of the car seat and cocoons them within the protective car seat shell. R129 certified car seats enforce rear-facing position up to 87cm (which is up to 15 months).
Forward-facing earlier is NOT an option.
What's the difference between an infant car seat and a convertible?
Car seats for newborns come with two options - infant car seat OR a convertible. Both are newborn-ready and can be easily installed into your car. The main difference between the car seats, is that an infant car seat is portable, and a convertible car seat stays in your car.
An infant car seat is your lightweight and portable option, with the dual use of being in the car OR on your buggy (which is called a travel system, and you do require the car seat adaptors to click on to your buggy). With this use, you have the freedom to maintain your busy lifestyle and the convenience of taking your baby with you without disturbing their resting or relaxing time while in the car seat. Some babies don't like the fuss of being taken physically in and out of the car seat, so taking the whole car seat out just delivers more freedom for you while on the go.
A convertible car seat generally stays in the car, and as its name suggests, has more than one function. It not only allows you to rear face your newborn, but when they are tall enough, you can simply turn the seat around to front face, offering additional years of use, which some may find gentler on their wallet 🖤
It's also important to note that you do need a car seat to be able to leave the hospital to take your newborn home 😊
I know what buggy I'm wanting, but I need an infant car seat that will fit onto it. I've been told this is a travel system, so how do I get this, and what are the benefits?
One of the first purchases parents make when expecting, is the buggy then the infant car seat. For one, you need the buggy to get to and from places, and you definitely need an infant car seat right from the get-go to legitimately leave the hospital after birth.
A travel system is merely putting these two items together with an adaptor that attaches to your buggy frame, and allows you to simply click the infant car seat on and off and into the car with minimal disturbance to your baby's rest.
Some parents like to seek out a buggy and infant car seat of the same brand for peace of mind. Only some brands offer this pairing with custom made car seat adaptors. Mountain Buggy® offers this travel system bundling across its collection.
view protect™ i-Size portable infant car seat (2023+)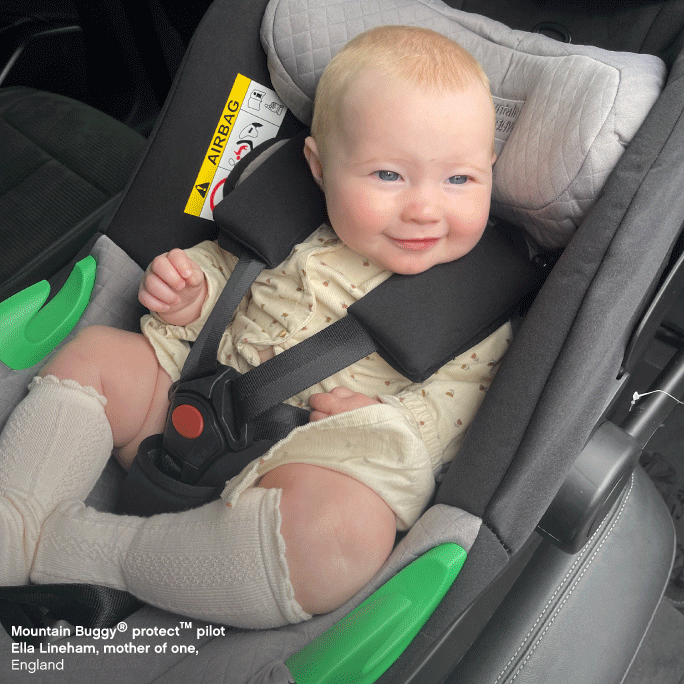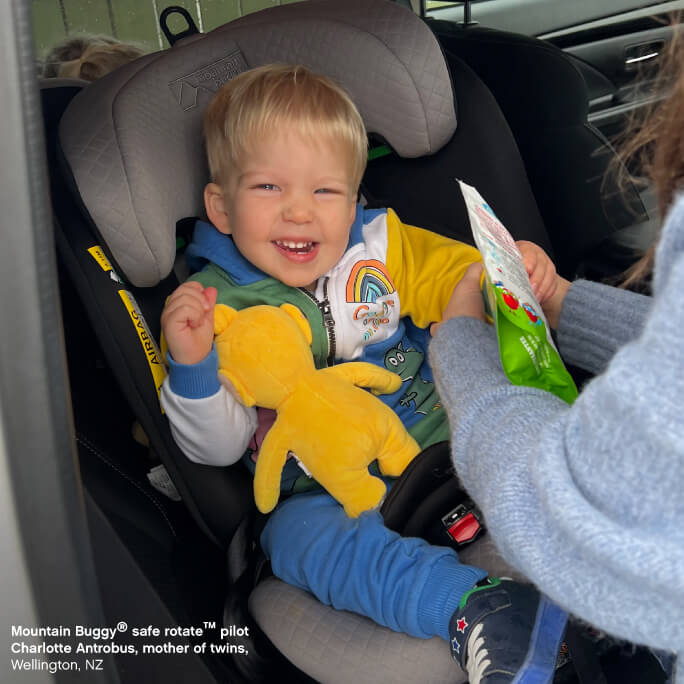 I need a car seat that's more gentle on me (!) to use after my c-section for when getting my baby in and out of the car. Are there any options that will work for a post-baby body?
Some convertible car seats come with a unique swivel seat, which allows the seat to directly face you as you pop your child into the car seat, making accessibility much easier, providing much needed comfort and less strain on your back when getting them in and out the car. This is especially helpful for those mums whose bodies require time to heal and need to take it easy in those first few weeks.
safe rotate™ i-Size convertible car seat
not available in EU or UK market at this time
My pre-teen thinks she's too cool to ride in a "baby seat" but safety comes first... what's my option?
Well, staying safe is cool! And older kids need the right seat too, as back seats are not designed to accommodate and keep young kids safe.
For their safety, kids from 100cm to 150cm still need to use a booster seat. Make sure they ride in one until they outgrow the size limits of their booster, or until they are big enough for an adult seat belt to fit them properly.
haven™ i-Size booster car seat
not available in EU or UK market at this time